Register your player for our Florida Celtic TOPSoccer Program here:
Player Registration URL: https://system.gotsport.com/programs/3613043L8?reg_role=player
What is TOPSoccer?
US Youth Soccer TOPSoccer (The Outreach Program for Soccer) is a community-based training and team placement program for young athletes with disabilities, organized by youth soccer association volunteers. The program is designed to bring the opportunity of learning and playing soccer to any boy or girl, who has a mental or physical disability. The goal of the program is to enable the thousands of young athletes with disabilities to become valued and successful members of the US Youth Soccer family.
TOPSoccer creates a fun, adaptive environment for players 4 to 21 years old. Programs are geared toward player development rather than competition. Athletes learn skills and have fun!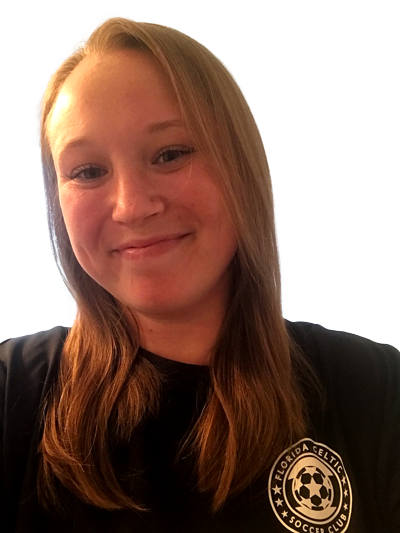 Florida Celtic TOPSoccer Program
Chloe Hoffman has always had a passion for soccer, starting from when she was three years old and her parents first introduced her to the great game. She continued to play throughout her life, traveling to Peru to play the Peruvian national team with her club (Triangle United) in 2012. She competed in college at Nova Southeastern University, where her team was the first in 7 years to win the Sunshine State Conference Championship.
She also has a strong passion for working with individuals with disabilities. Chloe's younger brother (Campbell) is on the autism spectrum and she spent her college career studying Behavioral Neuroscience due to a drive of understanding individuals with autism on a more in-depth basis. She went on to use her degree to work as a special education teacher for two years following graduating in 2019. Along with this, she has also volunteered and hosted many events for individuals with disabilities such as Special Olympics and Best Buddies throughout her high school and college years.
"I am very excited to bring together my two passions in life, soccer and working with individuals with disabilities, through the TOPSoccer program! I love that soccer is such a unifying sport and can bring together people from any place, age, or background to work together and have fun. I am incredibly excited to do just that through our TOPSoccer program. This is an amazing opportunity and I am thrilled to be taking on the role as TOPSoccer Director here at Florida Celtic Bolts Soccer Club."
– Chloe Hoffman
"We are delighted to have Chloe Hoffman on board as our TOPSoccer Director, Chloe has the skill set, the attitude and determination to grow the TOPSoccer program here at Florida Celtic Soccer Club. We are all looking forward to a fun season that is sure to be a wonderful and unforgettable experience for our special needs players and our volunteer coaching buddies."
– John Orr, Recreational Director