For new players and families registering with PlayMetrics follow these steps!
As you begin using PlayMetrics, you may have questions about how to navigate your account. The Help articles below offer instructions as you start using the system.
The steps below show how to create your PlayMetrics account through a registration URL provided by the Club.
1. Click the registration URL link (or copy and paste it into your browser) and fill out the appropriate information. Enter the email address and password you would like to use for your account.
Registration link: https://playmetrics.com/signup?clubToken=TG9naW4tQ2x1Yi52MS0zNzktMTY2NDY1OTA4NnxjT3lwMG8vbDZlclZxZXd5NEpEQnQ3Zm9mUmlFeFJlRUxqZEcxdksrZDZRPQ==
Once you have done this, click the "Create Account" button to create your account.
2. Our system will send a verification email for you to confirm your email address. Check the email inbox that you used to create your PlayMetrics account and verify your email address. After verifying your email address, you will be prompted to enter your contact information to complete your Parent or Guardian account.
3. Add your player information for each child you plan to register.
4. Based on the player information provided, you will be shown a list of programs available to each player. The recreational programs will be listed as:
Belleair Breakers Recreational Program
Largo Wolves Recreational Program
Palm Harbor Nighthawks Recreational Program
Seminole Strikers Recreational Program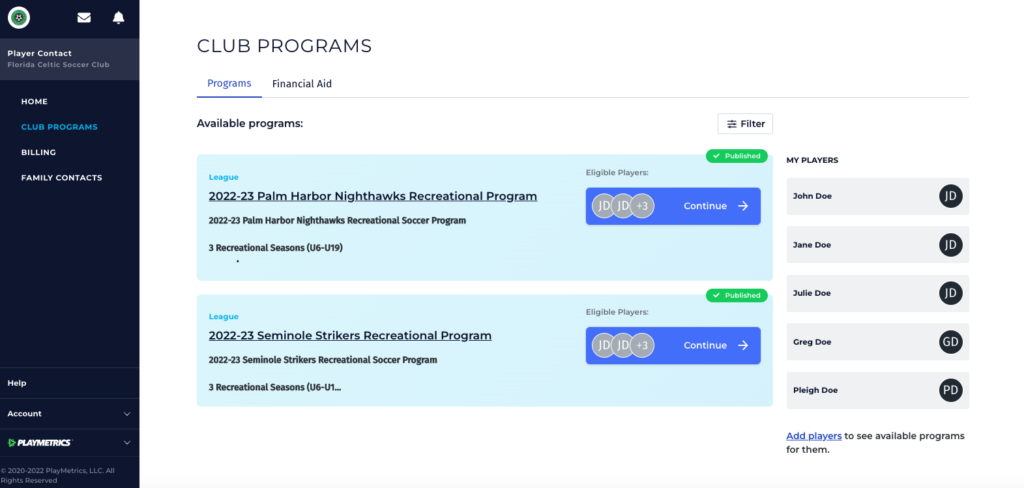 For more information on how you register a player for a Club Program, please see the article "Registering a player for a program".
For more information on setting up your Player Contact account, please see the article "Setting Up Your Account: Parents & Players"
If you are still having trouble registering, please contact support@playmetrics.com and provide the following information:
The name of your Club (Florida Celtic Soccer Club)
Your name
Your player's name (if applicable)
Email address you supplied to the Club
The email App or Service you are using
Description of your issue
Phone number where we can reach you